My BlueROV2 has been plagued by leaks since I purchased it. We've had to abort several dives and use our backup ROV on multiple jobs due to severe leaks as soon as the BlueROV gets to depth.
The leaks have been extremely difficult to track down. They often don't appear during vacuum tests or shallow test dives. Sometimes the ROV is fine for the first dive of the day, but the electronics enclosure would rapidly flood on the second dive after a battery swap.
We've finally traced the problem to the red cable penetrators. The potting epoxy is not bonding reliably with the anodized aluminum of the penetrator body. As a result, leaks can rapidly appear between the potting and metal if the cable is strained lightly.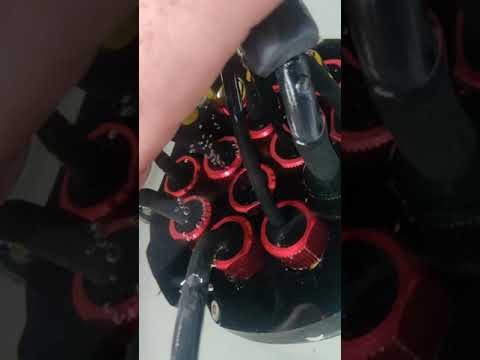 We have had three penetrators fail in this fashion on our BlueROV2 Heavy in the last year. I've seen several photos of other user's BlueROV2s with globs of epoxy added on the outside of the penetrators, presumably to address the same problem.
Bonding epoxy to aluminium has numerous documented challenges. These issues can be overcome by preparing the surface of the aluminum prior to bonding, but it doesn't appear that Blue Robotics is doing any such preparations before potting.
When we make penetrators in house, we machine several grooves into the inside of the bore using a small metal lathe. We do this immediately prior to pouring the potting, and so far we haven't had any failures.
It cost us dozens of hours and a couple of corroded speed controllers before we found this problem. I hope that Blue will make some improvements to your process to correct this issue.
In the meantime, do you have any recommendations for how users can repair leaking penetrators already in the field?